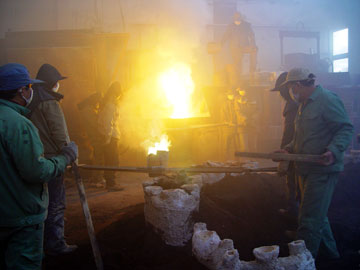 The first piece of artwork for the Garden of Surging Waves came in the way of a gift from Huo Bao Zhu, a Chinese businessman who believes he owes a debt of gratitute to the United States after a Portland physician treated him for a rare form of leukemia, when his doctor in China had given him only two years to live.
Huo's gift is a six-and-a-half-foot-tall bronze sculpture of a man calming a dragon with one hand while holding up a huge incense burner with the other. The piece is inspired by a Western Han Dynasty miniature incense burner from 204 B.C. The gifted bronze sculpture is valued at $45,000. Huo donated a six-ton bronze elephant statue to Portland in 2002 in a similar gesture of gratitude.
Suenn Ho, the designer for the Garden of Surging Waves, later contracted with Huo's foundry, Shaanxi Yuan Kun Sculptural Arts Company, in China to produce other artworks – some 14 tons in all – for the Garden of Surging Waves.
Additional Artisans, Fabricators and Contractors
JUNO Architectural Glass: salmon lantern, donor screen, interpretive panel
Specialty Metal Fabricators: story screen, interpretive panel
Hanset Stainless Inc.: salmon lantern, donor screen
Lynn Adamo: sturgeon mosaic
Stone Art: engravings
NW Precast: all precast timeline benches, seating blocks, story screen panels
John Lawrence: basalt benches
Astoria Granite Works: heritage walk granite timeline planks
Robinson Construction: general contractor
Seven Dees: plants